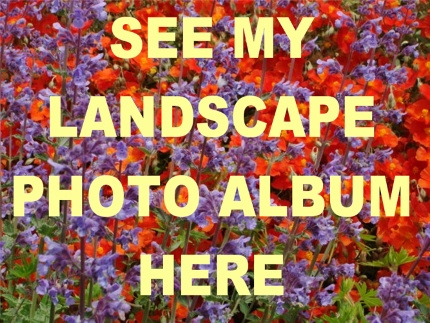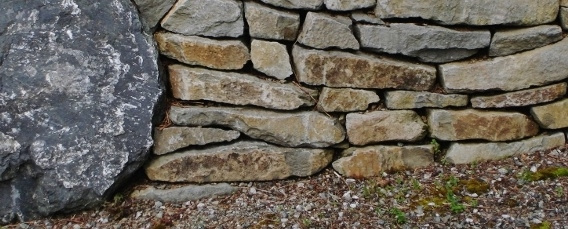 --- SERVICES I PROVIDE ON ORCAS ISLAND -----
Design and Installation of:
Residential and Commercial Landscape Plantings

Specimen Rock Placement

Stone Walls (dry stacked by hand or machine)

Stone Walkways and Patios (dry laid)

(I am no longer doing projects in mortar or concrete !!! )
Specialty Pruning of:
Ornamental Trees and Shrubs

Orchard Pruning

Clean-out of old overgrown landscapes

Japanese and other Oriental Styles
Woodland Cleanup: Thinning out of small trees and brush, burn piles (no heavy machine work): Reduced rate available on large and ongoing projects November thru February - no estimates, by the hour only.
Consultation on how to move forward with your project.
!!! NO NEW MAINTENANCE ACCOUNTS !!! I am no longer taking any new maintenance accounts.
!!! NO INSTALLATION PROJECTS IN THE MONTHS OF MARCH THRU JULY !!! These months are reserved for maintenance with established clientele
First one hour consultation on possible installation projects is free of charge
Detailed and accurate estimates
may require design and research time and will be
billed accordingly.
----- MY TERMS -----
RATE FOR ALL TIME AND LABOR IS $40 PER HOUR
Reduced rates available on woods cleanup projects November thru February, must be booked well in advance, NO estimates, by the hour only.
ALL SERVICES ARE SUBJECT TO SALES TAX
Unless specified otherwise, ALL materials, plants, and deliveries must be paid in full BEFORE delivery is made.
On large installation projects, a labor deposit may be required in addition to all materials and deliveries.
Unless specified, all sub-contractors will be paid separately by the client.
!!! NO DEADLINES !!!
Rule #1 - No deer fence?... no plants!
The only three exceptions to deer fence rule are:
Most ornamental grasses

Trees over 6 feet tall (but must be caged and/or include trunk protection against thrashing

(Rocks! - are still a safe bet!)
Below are two of my design drawings on
easy-to-use 8.5 x 11 size.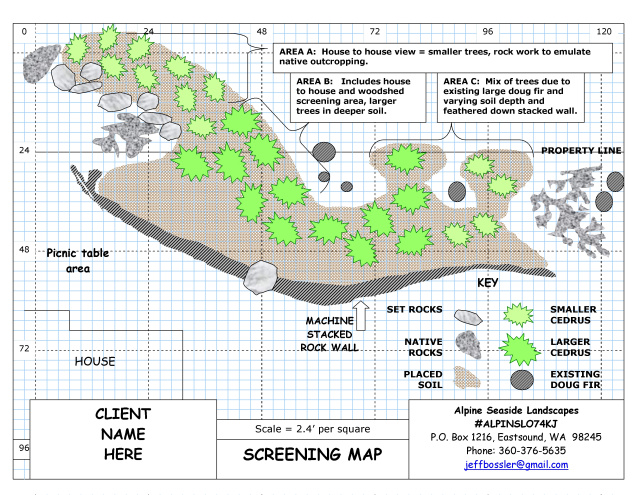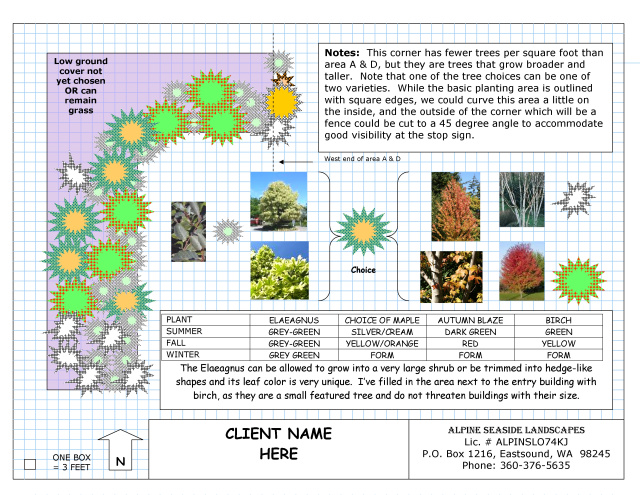 Above: I often draft multiple drawings for the same areas - each drawing focusing on a single aspect of the area such as concept, color, hardscape, special considerations such as visibility, view sheds, etc.
MORE ON DEER AND FENCING:
Orcas Island may be one of the toughest places regarding deer damage to landscape plants, conservation and restoration projects and the overall natural environment. Over the last 30+ years I've been here, I've seen all but 3 of the 45 "deer proof" plants go onto their salad bar menu.....including lavender, rosemary, and Shasta Daisies!
A deer fence does not need to be ugly! Most people think they don't want a fence - that is - until they've spent 10 years pulling their hair out in frustration over the loss of their plantings. One woman told me (who didn't want a fence but eventually built one), that she feels "free" INSIDE her fence, because she can now grow what she wants to grow!
A fence can and should be an integral part of the hard-scape. Before you waste money and years on plants, build a fence. The diagram below shows how constructing cages around plants is a total waste of time and money. Build a full perimeter fence now. Do it right the first time!
My design work often utilizes photographs in many ways: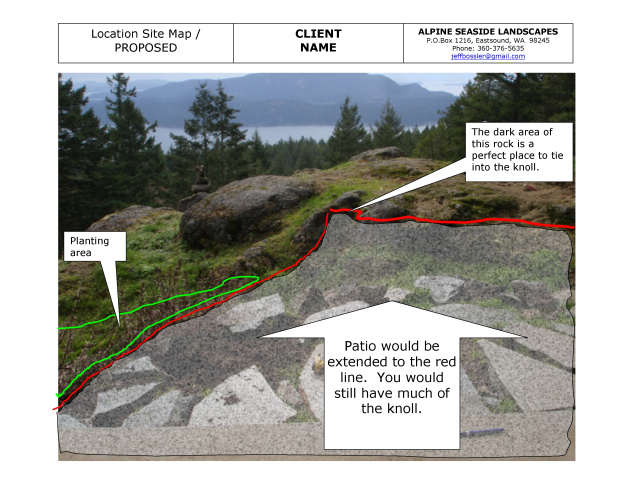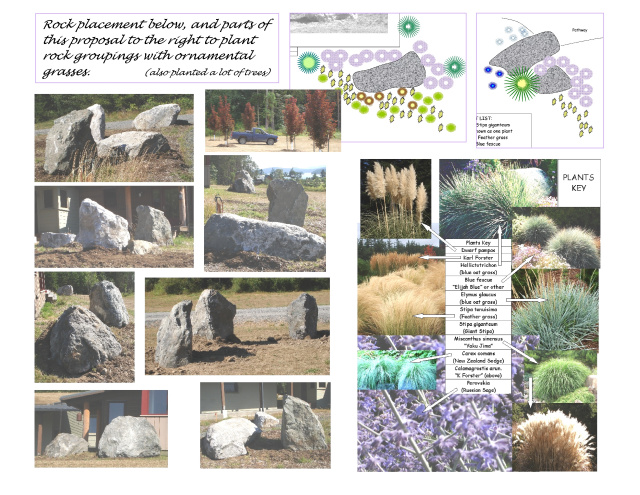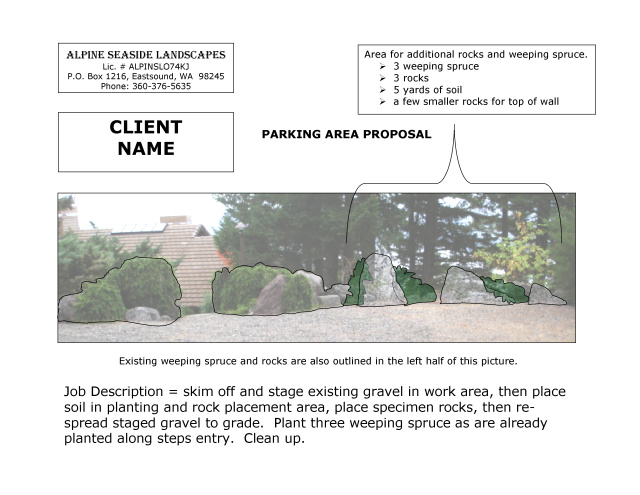 -----///-----
"The numbers"
Each proposal looks a little different depending on what needs to be expressed and detailed. Some jobs require more definition than others. One thing you will NOT get from me is a sloppy estimate, proposal, or invoice. Below are some examples of proposal worksheets and invoices.
Hourly rates shown below are no longer valid.
-----///-----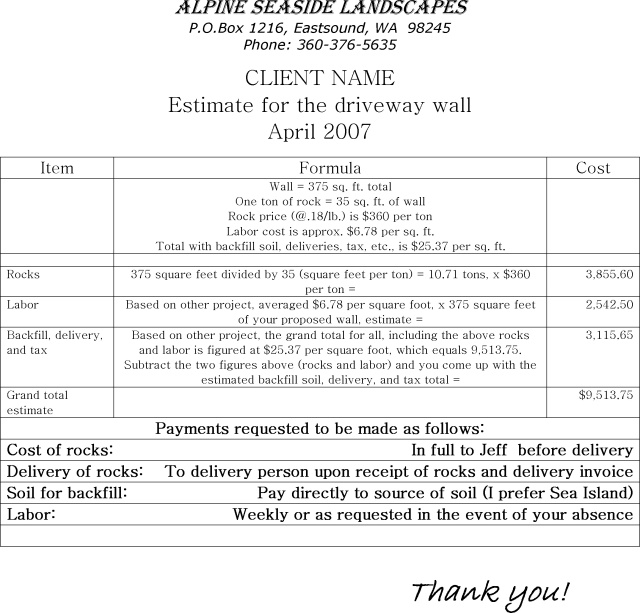 -----///-----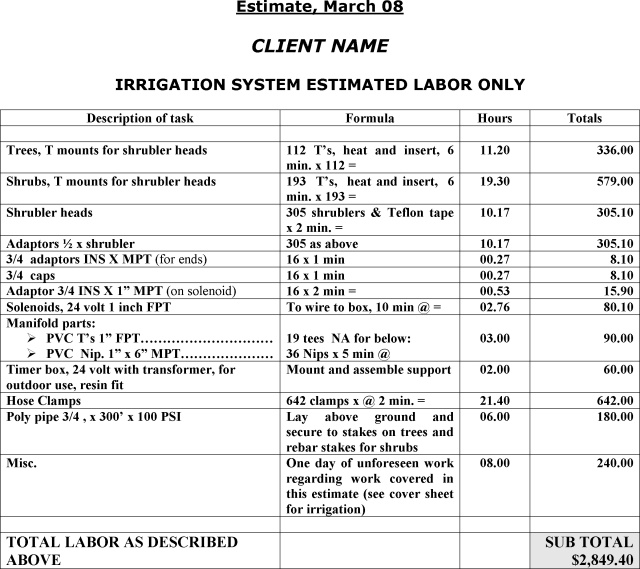 -----///-----
My detailed time sheets are great formula building tools so that I can give accurate estimates when and where ever possible.
-----///-----
"Ball park estimates are worth as much as they are built on
..........absolutely nothing!"
<<<<<<<<<< >>>>>>>>>>